SPACE GIRLS
The Pictures Continue...
---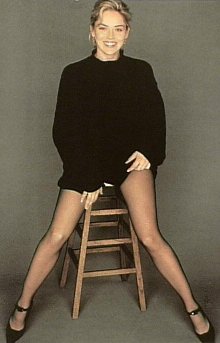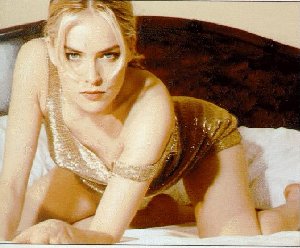 Sharon Stone has made a great name for herself in Hollywood after attending that small university in northwest Pennsylvania - Edinboro State University of Pennsylvania. Depending on what you read, she either decided to leave the 'Boro early or she flunked out! As a 'Boro graduate who finished up the semester before Sharon arrived (F*cking bad timing), I like to believe that she left to pursue her acting career. Anyway, Sharon has played in a few SciFi movies like SPHERE and TOTAL RECALL. Whatever role she plays; she leaves a lasting impression. Here are a few images of Saegertown's very own---Sharon Stone.
*******************************
Denise Richards was one of the stars in STARSHIP TROOPERS; a movie you either loved or hated. Personally, as a SciFi fan who was raised on "B" SciFi flicks, I gave this one a solid B+. If the shower scene had been a bit longer it may have reached the A- range. For larger versions of the two Denise Richards' photos; just click on them.
Finally, there has been a call for Terry Farrell, Dax from DS9. Well, here's a cropped picture or Terry that will keep this site from being removed for nudity. I hope you enjoy it.
---
More SPACE GIRLS are a click away..

---

Email is always welcome.
Let me know what you think about SPACE GIRLS.